INDEPENDENT LIVING
Co-housing is a way of living where people choose to share space with their neighbours, get to know them and look after them.
What is independent living?
Independent living offers a carefree lifestyle for older adults who want to enjoy retirement with ease. Senior independent living facilities provide a variety of convenient services and amenities, including prepared meals, transportation, social activities, and housekeeping.
Unlike assisted living, independent senior living doesn't provide help with personal care, like bathing or toileting. In fact, seniors at independent living facilities are generally active, healthy, and able to live on their own, but may desire convenience and more social opportunities.
Independent living services
Independent living services vary from one community to the next. However, independent living facilities focus on providing hassle-free living and building community in a senior-friendly environment.
Independent living services
Dining services
Nutritious meals
Housekeeping
Laundry
Home maintenance and repairs
Complimentary transportation
Social activities and outings
Concierge services
Independent living amenities
While amenities vary from one community to the next, independent living facilities may feature:
Beauty salons and barbershops
Movie theatre
Library
Walking paths, communal garden, or courtyard
Pool or spa
Fitness center
Art and crafts studio
Health clinic
Pharmacy
Private event spaces
Loneliness doesn't always stem from being alone. For architect Grace Kim, loneliness is a function of how socially connected we feel to the people around us -- and it's often the result of the homes we live in. She shares an age-old antidote to isolation: cohousing, a way of living where people choose to share space with their neighbours, get to know them and look after them. Rethink your home and how you live in it with this eye-opening talk.
What are the benefits of independent living?
What are the benefits of independent living?
Independent living allows older adults to pursue a more relaxed lifestyle without the responsibilities of home ownership and other daily chores. It offers convenience in a social, senior-friendly community. Adults who choose to live in an independent living retirement community are able to spend more time exploring interests and connecting with friends and loved ones. In fact, independent living offers several perks for active, retired seniors.
Convenience and maintenance-free living
Household maintenance and chores can be a burden for aging adults. While some may find cooking or gardening therapeutic, other housework — such as bending over to clean floors or climbing ladders to change lightbulbs — can be time-consuming and may lead to unnecessary injuries.
Independent senior living residents don't need to worry about lawn maintenance, home repairs, or housekeeping. Along with a wide range of amenities, these services are key benefits of independent living along with restaurant-style dining, help with errands, and transportation services.
Dining services
Older adults who live on their own may not want to spend time cooking healthy, nutritious meals for one. Even those who enjoy cooking may find daily meal preparation a burden.
Independent living communities typically provide three meals each day in a common dining room. Menus are developed with senior nutritional needs in mind, and cater to different dietary restrictions. Snacks and drinks may also be offered in all-inclusive facilities.
Dining at an independent living facility can be a social experience for those who enjoy sharing good conversation over meals. It provides opportunities to catch up with friends and make meaningful connections.
However, some senior independent living apartments are equipped with full or partial kitchens for residents who enjoy cooking, want to host dinner guests, or simply prefer to have a quiet, private meal.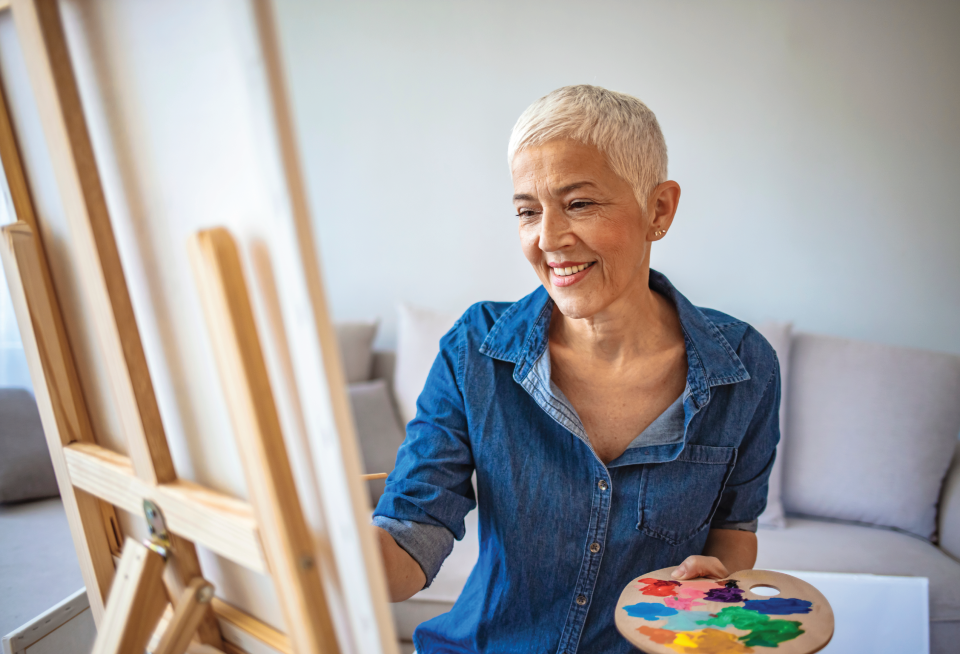 Independent living encourages older adults to stay active and engaged.
Sense of community
Nearly 13.8 million seniors age alone, according to the U.S. Census Bureau. While living alone doesn't necessarily lead to loneliness, certain factors may make it more difficult for older adults to stay connected with loved ones. Chronic conditions, mobility impairment, lack of transportation, and changes in family dynamics — such as divorce or loss of loved ones — may contribute to senior isolation. Loneliness and isolation may worsen health conditions and increase the risk of cognitive decline in seniors.
Independent living provides older adults with a built-in community of people at a similar stage of life. Shared amenities and a variety of make it easy for residents to engage with others and meet new friends.
Recreation and social activities
Older adults who are active and engaged tend to live happier, fuller lives. However, issues like limited mobility and lack of transportation may be barriers for aging adults who want to stay social.
An independent living lifestyle offers a variety of social activities to appeal to many tastes and preferences. Planned events focus on different aspects of wellness — physical, emotional, intellectual, and spiritual. Residents interested in connecting with like-minded people enjoy movie nights, fitness classes, book clubs, transportation to religious services and outings to theaters, and more.
While amenities vary from one community to the next, many residents find independent living facilities encourage seniors to stay active, healthy, and engaged without the need to go far.
Safety and senior-friendly apartments
Falls are a major health risk for older adults, often leading to serious head and hip injuries. In fact, nearly 3 million adults end up at emergency rooms each year because of fall injuries, according to the Centers for Disease Control and Prevention (CDC).
Many things contribute to an increased risk of falls in seniors, including mobility impairments and home hazards. But, in some cases, it may be too costly to adapt a home to make it safe and accessible.
Independent living apartments are designed with seniors in mind. Common areas and apartment units come with accessibility features to cater to different levels of physical ability. These often include wide doorways, low thresholds, well-lit spaces, handrails, walk-in showers and tubs, and more.
Many independent living facilities also have staff available 24 hours a day to assist residents in case of an emergency. Some may offer each resident a personal emergency response device or have emergency alert systems in apartment units so seniors can get help at the push of a button.

Complimentary transportation
Older adults are at increased risk of car accidents. While some independent living residents may choose to continue to drive, they may also rely on the convenience of scheduled, complimentary transportation services provided by many communities for outings, medical appointments, shopping, and other errands.
Pet-friendly community
Moving to an independent living facility doesn't mean you need to say goodbye to furry friends. Many communities allow pets. However, some may have rules and restrictions related to the types, size, and number of pets.
If you're planning to bring a pet to live with you at an independent living community, be sure to ask about their pet policy and fees.
All-inclusive rent
Many independent living retirement communities are all-inclusive. This means the monthly base rent fee covers housing, utilities, meals, and amenities. An all-inclusive independent living arrangement allows residents to spend less time managing and paying bills and more time enjoying life.
8 benefits of independent living at a glance
Convenience and maintenance-free living
Dining services
Sense of community
Recreation and social activities
Safety and senior-friendly apartments
Complimentary transportation
Pet-friendly community
All-inclusive rent
What's the difference between independent living and other types of senior retirement living?
Older adults have many options when it comes to retirement living. Before choosing a community, it's important to understand your options, assess your needs and preferences, and compare retirement community costs.
Independent living vs. assisted living
Both independent living and assisted living communities offer secure, senior-friendly housing and amenities, along with social activities, outings, and dining options. However, independent living and assisted living to differ when it comes to helping with personal care.
Independent living is for older adults who can perform activities of daily living, such as bathing, dressing, and toileting, on their own. Unlike seniors in assisted living, independent living residents don't need daily help with hygiene, medication management, or bed transfers. They are able to live independently but prefer the convenience and sense of community offered by independent living facilities.
Independent living vs. active adult communities
Active adult communities are for people 55 and older. These communities usually have age restrictions and offer a quiet, child-free environment along with features that appeal to active adults. Amenities may include golf courses, pools, tennis courts, clubhouses, and fitness centers. Active adult communities are often located near shops, restaurants, and other attractions for convenience.
Active adult communities may be right for seniors who are interested in downsizing or who want to reduce the upkeep of their homes. These communities often offer lawn and landscaping services and exterior home maintenance. However, unlike independent living facilities, active adult communities typically don't provide services like housekeeping, laundry, meals, or transportation.
Independent living vs. senior apartments
Like independent living facilities, senior apartments are designed for accessibility, with like elevators, handrails in bathrooms, and wide doorways.
In some cases, senior apartments' rental fees may include utilities, maintenance, and security. Senior apartments are usually low-cost options for older adults who aren't looking for luxury amenities. They offer a no-frills housing solution for seniors who want to live independently but don't want the stress of homeownership.
Unlike independent living facilities, senior apartments typically don't provide housekeeping, laundry, transportation, or meal services.
Is independent living right for me?
Independent senior living is a great option for older adults who are generally healthy and active. Independent living residents don't need medical assistance or help with personal care. However, they may be interested in living in a secure community where they can develop new connections with peers, participate in social events and outings, and enjoy the perks of maintenance-free living.
Ask yourself these questions to decide if independent living is right for you:
Are you generally healthy and able to care for yourself without daily help with personal care?
Would you like to delegate household chores, like laundry and cleaning?
Would you enjoy the option of having cooked meals based on your dietary needs?
Is it increasingly difficult to keep up with home repairs and maintenance?
Does living in a community with other active seniors while keeping your privacy sound appealing to you?
Would you enjoy opportunities to stay social and make new friends?
Would you value the additional security of having 24-hour staff available in case of an emergency?
Are you interested in spending more time focusing on hobbies and a healthy lifestyle?
If you answered "yes" to most of the questions above, independent living may be right for you. Contact our Senior Living Advisors to discuss your senior living preferences and receive a list of personalized options that match your needs.
What if I need more help and support later on?
Combining independent senior living with home care may be an option for older adults who experience changes in health and care needs. In-home caregivers come to seniors' homes to provide a variety of services that may include help with mobility, personal care, medication management, and more. Home care may allow seniors to remain in independent living and maintain their freedom while receiving the help they need.
However, it's important to consider how much help is needed when calculating home care costs. Home care agencies typically charge by the hour and may require a minimum of several contracted hours a week. The fee is also calculated based on the types of services provided.
Continuing care retirement communities, or CCRCs,  are another option for older adults who anticipate needing help with personal care — like dressing, bathing, or toileting — as they age. CCRCs offer a continuum of care for seniors as their needs change. Seniors in CCRCs may start in independent living and may eventually transfer to assisted living or memory care within the same community, as their health and medical needs evolve.
While other retirement communities may also offer different levels of senior care, only those designated as CCRCs offer skilled nursing care and a variety of medical services onsite. This type of community may be a good option for couples who have different care needs.
How much does independent living cost?
Independent living costs vary based on many factors, including location, amenities, the types of services provided, and size of accommodations. The monthly median cost of senior independent living in the U.S. is $2,552.
What's included in the cost of independent living?
Most independent living communities are all-inclusive. This means the base rent covers most amenities and services, including:
Housekeeping and lawn maintenance
Social activities
Meals, snacks, and drinks
Transportation services
24/7 security
Utilities, such as electricity, water, and gas
As you research potential independent living communities, it's important to ask about extra costs, such as admission, carport, and pet fees. In some cases, independent living facilities may charge for meals or housekeeping separately.
Be sure to ask questions to thoroughly understand what your monthly rent covers. If you're planning to live with someone, like a spouse or friend, it may cost extra. Additionally, you may have to pay separately for certain outings, haircuts, laundry, and spa services.
What factors affect the cost of independent living?
When choosing an independent living community, also consider:
Location. If living in a different area, city, or state is an option, you may want to research the cost of the independent senior living by location. Cost of living affects how much you will pay for your independent living apartment.
Type and size of accommodations. When choosing a community, ask about apartment types and sizes. Some communities may offer studio, one-, or two-bedroom apartments. Others may offer cottages or apartments with a kitchen or kitchenette. Be sure to understand the price differences when choosing the right accommodations for you.
Pricing structure. Do you want to live in an all-inclusive community, where rent, meals, utilities, cable, and services are included in your monthly fee? Or would you prefer to pay for certain services separately, as needed? Choose a community that fits your needs and budget.
Services. Ask questions to understand what's included in the monthly rent fee. For example, ask whether certain services may be offered a la carte, such as meals or housekeeping.
Additional fees. Be sure to ask about entrance and maintenance fees, as well as other costs, like pet fees.
Questions to ask about the cost of independent living
What services and amenities does the base rent cover?
What fees, services, or amenities are not included in the base rent? What a la carte services are available?
Are there different apartment sizes and styles? And what are the price differences?
How often does the price increase and by how much?
How long is the lease?
Are there separate carport fees?
Are there separate pet fees?
How do I pay for independent living?
Independent living is often more affordable than other senior living options. This is because independent living facilities don't provide help with daily personal care or medical assistance.
Once you've chosen an independent living community that meets your needs and matches your lifestyle, preferences, and budget, it's time to consider how to afford it. When it comes to financing independent living, Medicaid and Medicare aren't options, but there are other ways to pay for retirement living.
Personal funds. Most seniors use savings, retirement income, or investment funds to pay for independent living.
Home equity. If you own a home, you may be able to sell it, rent it, or apply for a reverse mortgage to convert equity into funds to pay for independent living.
Long-term care insurance. If your long-term care insurance would cover the costs of having someone come to your house to help with housekeeping, meal preparation, or transportation, it may cover some, although probably not all, independent living
Life insurance. In some cases, you may be able to sell your life insurance policy for a lump sum to help fund independent living
Bridge loan. Short-term loans can help pay for independent living while you're selling your home or liquidating other assets to cover costs.
How do I choose an independent living facility near me?
Independent living communities come in all shapes and sizes to fit seniors' preferences and budgets. While some may be large, resort-like communities, others might be smaller retirement homes with fewer services or amenities.
When choosing an independent living facility, start by considering:
Location. Consider whether you want to move to an independent living facility in the same area where you currently live or if you want to relocate to be close to friends or family members.
Services and amenities. Start by thinking about your lifestyle preferences and health needs. If you enjoy cooking every once in a while, you may want an apartment with a kitchen or kitchenette. If you don't drive, you might consider transportation services a priority. And for those with limited mobility, a smaller community might be a better choice.
Dining options. How many meals are offered each day? Are snacks and beverages included in the monthly base fee? Do menus cater to specific dietary needs?
Staff friendliness and community culture. Touring the facility can provide opportunities to interact with different staff members. You may also want to talk with current residents to understand what everyday life at the community is like. If an in-person tour isn't possible, some communities offer virtual tours.
Social activities. When touring a community, ask to see a calendar of planned activities to determine if they align with your interests. In some cases, communities are willing to incorporate new activities to match residents' preferences, so be sure to ask about that, too. Review the list of community amenities and consider whether they support your desired lifestyle.
Safety features. Your peace of mind is a priority. Consider what safety features will make you feel comfortable in your new home. Some communities may offer emergency alert systems or 24-hour security. When visiting a community, ask about their safety features and protocols.
Budget and costs. Costs are usually influenced by location, apartment size, and services. Consider what you can afford and whether you can be flexible when it comes to choosing a location or type of accommodations.